1944 born!!
1964-68 Stourbridge College of Art.
1971 set up first diy studio in Sussex
1973-74 taught glass at Manchester Polytechnic
1974 moved to herefordshire
1979-82 taught glass at Bristol Polytechnic
1979-81 chairman of british artists in glass
1978 helped wife greta start a waldorf kindergarten
now a steiner academy with 330 children
1981- divide professional life between building and glass blowing.
lower wormhill cottage, madley, hereford, hr2 9qf
phone: 01981 250835 07787970490
email: krushbrooke@gmail.com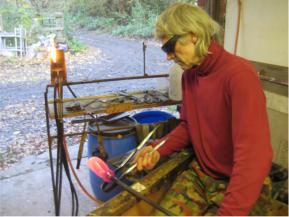 the studio glass of karlin rushbrooke
collections:
Dudley Glass Museum
Dan Klein Collection
Manchester City Art Galleries
British Craft Council
Victoria and Albert
Shipley Art Gallery
Please contact me at any of the following: